Discussion Starter
·
#1
·
I just finished another mod for the V. I found a great deal on a complete 2002 Kawasaki Prairie air box. The installation is quite simple to complete and requires only a few tools.
The top stack are the Prairie stacks. You can see that they are a little bigger.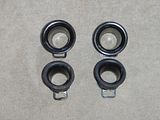 Necessary Tools
8mm socket
10mm socket
Ratchet with 6" extension
Phillips screwdriver
Pliers
Here are the steps to install the Prairie velocity stacks.
Remove the air box lid.
Remove the air filter.
With the phillips head screwdriver, remover the 4 screws retaining the air filter support frame.
Located on the corners of the velocity stacks, you will see 8 8mm bolts fastening the velocity stacks to the carburetor air intakes. Remove all 8 of those bolts.
Located in opposite corners where the air box attaches to the frame are 2 10mm bolts. Remove these two bolts freeing the air box.
With the air box separated from the frame, grab the first velocity stack and remove by pulling and twisting till it comes free. Do the same to the second velocity stack.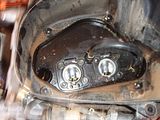 ​
With both velocity stacks removed, reinstall the 2002 Prairie velocity stacks. The will only go in one direction and index them selves with the carburetor intakes.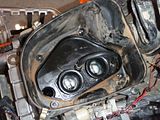 ​
Make sure the velocity stacks seal properly against the carburetor intakes. In reverse order re-assemble the entire air box assembly.
Install complete!
Once everything was installed, I noticed the bike started much easier. Throttle response seemed a little snappier also. The last thing was to do the 12 hole mod. Simply drill 12 holes into your air box lid.
Conclusion...This mod is well worth the money. The parts can be found at any Kawasaki dealership for about 6-12 dollars. My install time took just about 25 minutes.