Discussion Starter
·
#1
·
Polaris Defense Introduces Multi-Passenger Military Vehicle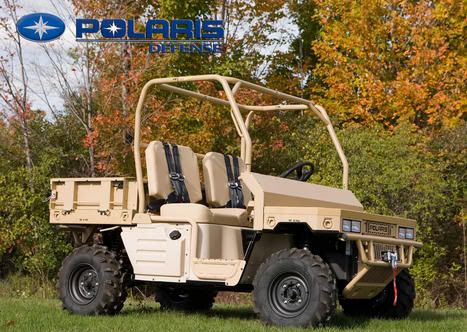 Company Delivers First MVRS800 to the Army
MINNEAPOLIS (November 26, 2007) — Polaris Industries Inc. today announced the Company has delivered a military version of Polaris' "Hardest Working, Smoothest Riding" RANGER™ utility vehicle to the U.S. Army at Fort Campbell, Kentucky.
The MVRS800, is the newest addition to the Polaris family of Ultra Light Tactical Vehicles produced for the military. It is powered by a 760cc, 40hp Patriot Engineâ"¢ that operates on JP8, the U.S. military's standard fuel. This breakthrough engine was first introduced by Polaris earlier this year on the militarized all terrain vehicle (ATV), the MV800.
To withstand rugged terrain and the harsh environments the military expects these vehicles to perform in, the MVRS features a rugged, steel exoskeleton, high-capacity fuel tank, run flat tires and completely sealed power train which can ford up to 30 inches of water. For easy transport of soldiers or gear, the vehicle also has a front storage rack, multiple D-rings, weapons storage and a rear bed with fold-down sides. The rear bed is adaptable to accessories such as litter racks and rear seating. Polaris also offers a gasoline powered version of this vehicle called the MVRS700.
"Polaris continues to assess the needs of the Armed Forces to provide them with vehicles that offer capability that can meet a wide variety of needs," said Mark McCormick, managing director, Polaris Defense. "The MVRS is based on our popular line of RANGER side by side vehicles known for their toughness and smooth riding capability. Basing the MVRS on the RANGER platform ensures a cost effective Ultra Light Tactical Vehicle that can conquer the toughest military demands."
Polaris Defense has been successfully providing a family of vehicles to the U.S. Armed Forces since 2001. Established to provide vehicles, spare parts and training to the military, Polaris Defense is dedicated to supporting its customers with a total capability for the demanding needs they have in all environments worldwide.
About Polaris
With annual 2006 sales of $1.7 billion, Polaris designs, engineers, manufactures and markets all-terrain vehicles (ATVs), including the Polaris RANGERâ"¢, snowmobiles and Victory motorcycles for recreational and utility use.
Polaris is a recognized leader in the snowmobile industry; and one of the largest manufacturers of ATVs in the world. Victory motorcycles, established in 1998 and representing the first all-new American-made motorcycle from a major company in nearly 60 years, are rapidly making impressive in-roads into the motorcycle cruiser and touring marketplace. Polaris also enhances the riding experience with a complete line of Pure Polaris apparel, accessories and parts, available at Polaris dealerships.
Polaris Industries Inc. trades on the New York Stock Exchange under the symbol "PII," and the Company is included in the S&P Small-Cap 600 stock price index.
Information about the complete line of Polaris products, apparel and vehicle accessories are available from authorized Polaris dealers or anytime from the Polaris homepage at
www.polarisindustries.com.