Discussion Starter
·
#1
·
Polar Sport Off-Road ATV Trailer — 1200-Lb. Capacity
T
he Product:
If you are looking for a durable trailer this is it. It is made with quality parts and the plastic bed is great. The trailer is stable and capable of holding a full load of practically anything you want to put in it. What really makes this trailer shine is that you can abuse it without fear of scratching up the bed which ultimately leads to the destruction of the trailer (via rust). As I mentioned, the Polar Trailer will hold its own. I have had it stacked to the top of the racks with everything from walnuts to wood. Having said that, I wish the trailer was larger. I installed the optional metal racks that expand the load capabilities to offset this and I'm glad I did. I wouldn't want this trailer for my ATV without them. However, if you have a smaller ATV, 450cc or less, or an average size lawn tractor, this trailer would be all you need. The only fall back really worth mentioning is the trailer's dumping ability. Additionally, the dumping feature leaves a lot to be desired. This is due to the rise in the back of the trailer which oddly enough I thought was designed to help it dump. When the load is dumped you must rake the contents out of the trailer. This is easier than scooping it out, but not really what I expect from a dump trailer. The trailer also comes equipped with a tilt dump feature. What this does is allow the operator to "twist" the trailer from left to right at the axle for angled dumping. I have yet to find a situation in which to use this feature, but it's there.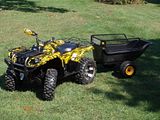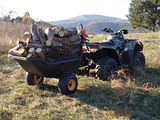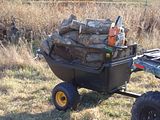 PROS:
- Durable, long lasting, able to take abuse
- Stability
- Price / value
CONS:
- Size seems too small for a large ATV without optional racks
- Dumping ability
OVER-ALL OPINION:
This is a great, durable trailer and I recommend it for someone who is looking for a trailer to use around the yard or maybe even light farm work. I would not recommend it for the serious ATV enthusiast who is looking for maximum functionality on back country treks as the trailer does not have any suspension on the single axle model.