Continued...
STEP 7: WITH THE SPANNER BOLT OFF, YOU CAN NOW REMOVE THE TRAILING ARM. REMEMBER, EVERYTHING WAS COATED WITH LOCK-TIGHT, SO YOU WILL NEED TO APPLY FORCE HERE. I ENDED UP TAKING AN OLD GROUNDING ROD AND COMING THROUGH FROM THE OPPOSITE SIDE OF THE QUAD, SHOWN IN THE PICTURE BELOW, AND KNOCKING IT OFF WITH SEVERAL GOOD HITS WITH A LARGE HAMMER. THIS GROUNDING ROD (OR WHATEVER YOU CHOOSE) WILL BE USED AGAIN SO KEEP IT CLOSE.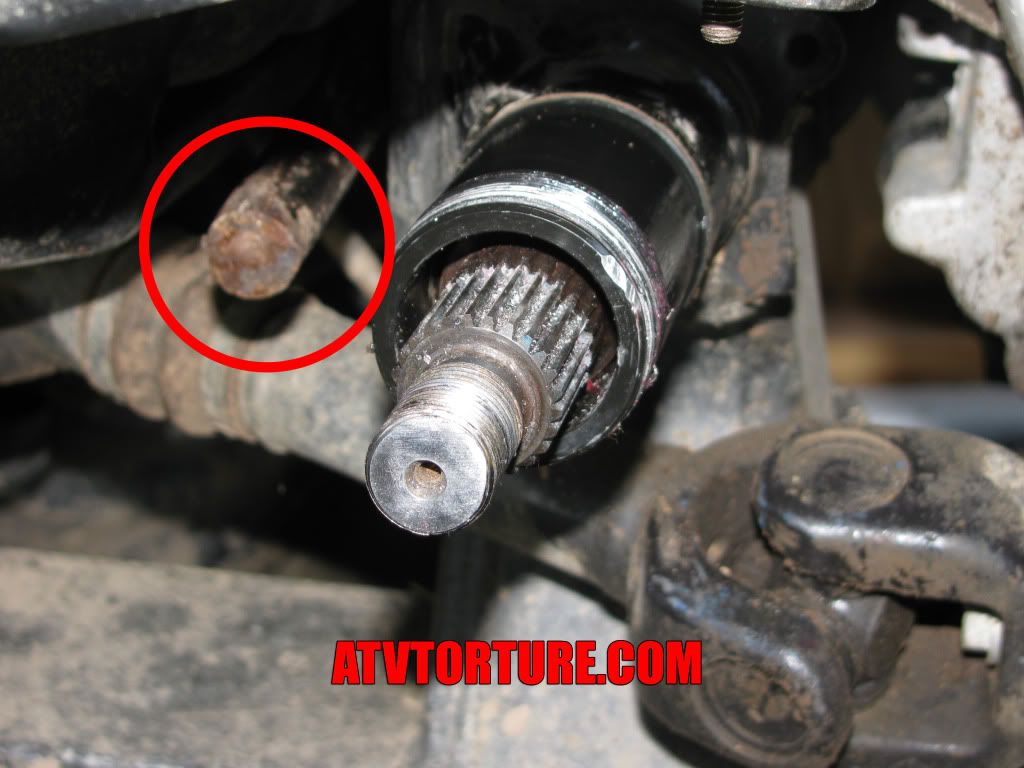 STEP 8: YOU WILL WANT TO CLEAN OUT THE JOINT AS MUCH AS POSSIBLE. DON'T WORRY, THE BOOT KIT HAS MORE GREASE IN THE BAG. USE THE GROUNDING ROD (OR OBJECT OF CHOICE) AND GET A GOOD BITE ON THE OUTER JOINT OF THE AXLE. A COUPLE GOOD DIRECT IMPACTS WILL KNOCK THE AXLE OUT. ONCE THE AXLE IS OUT, PLACE IT IN A VISE AND USE THE GROUNDING ROD TO SEPERATE THE JOINT. AGAIN A FEW GOOD DIRECT HITS WILL SEPERATE THE JOINT FROM THE AXLE.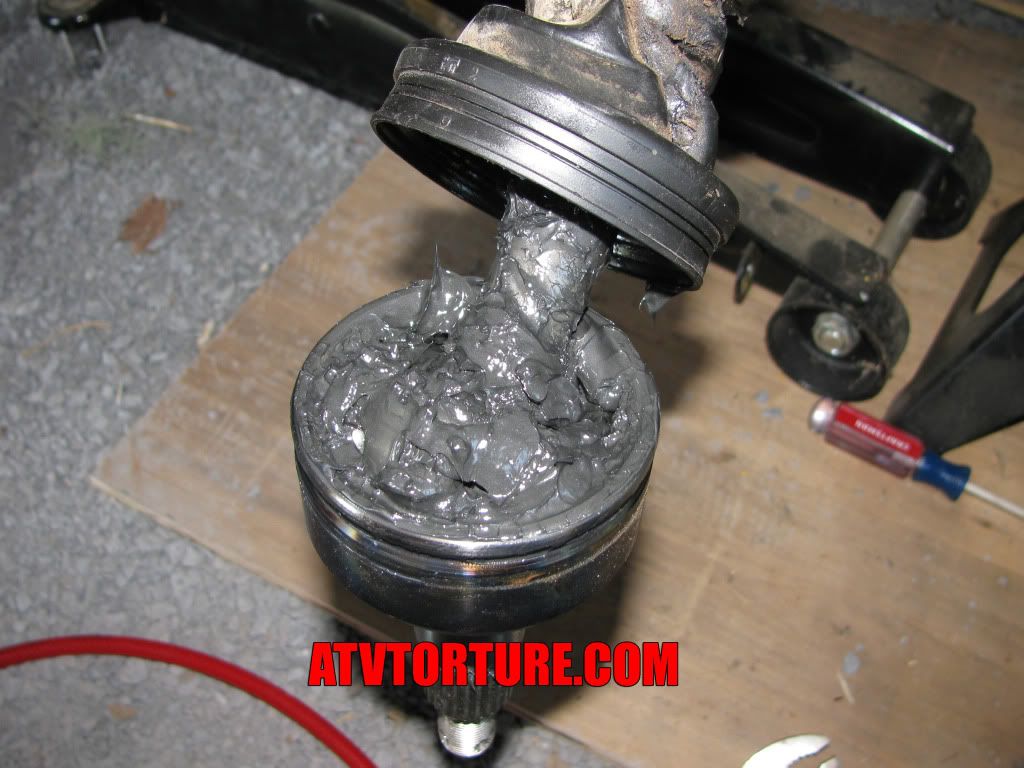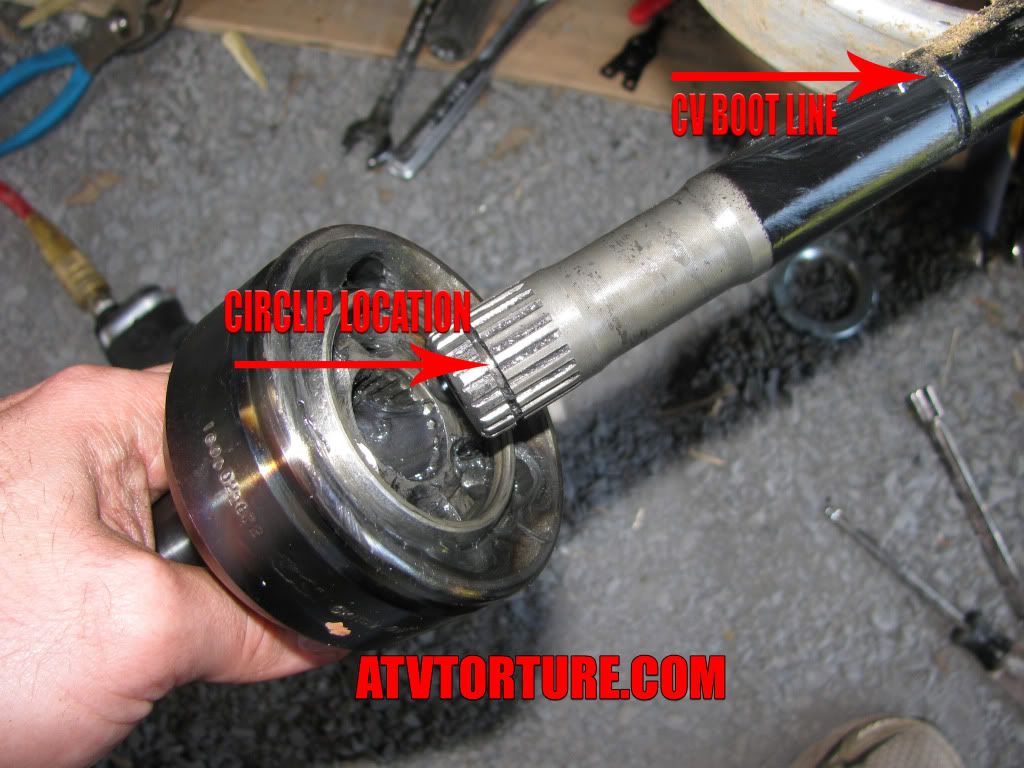 STEP 9: SLIDE THE OLD BOOT OFF AND REPLACE WITH THE NEW ONE. MAKE SURE YOU HAVE THE CLAMPS ON AS WELL. USE THE LINE ON THE AXLE TO ENSURE PROPER ALIGNMENT. REPLACE THE CIRCLIP (PROVIDED IN THE NEW BOOT KIT). NOW YOU HAVE TO PUT THE AXLE BACK IN THE JOINT. THIS TAKES SOME PATIENCE AND SOME MUSCLE. MAKE SURE YOU GET IT ALL THE WAY IN. THEN TAKE THE AXLE BACK TO THE QUAD AND PUT IT BACK IN THE GEAR BOX. THIS WILL ALSO TAKE SOME FORCE.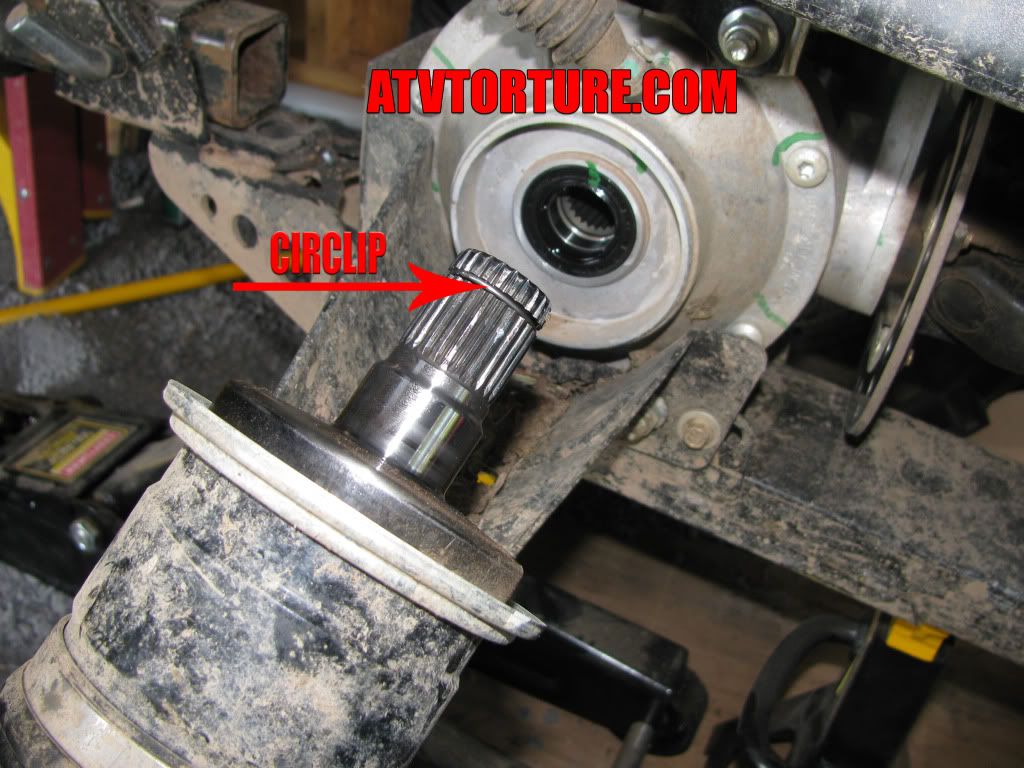 STEP 10: WALLA! YOU'RE DONE. ALMOST. NOW ALL THAT IS LEFT IS TO REASSEMBLE THE QUAD. YOU WILL WANT A TORQUE WRENCH AND A COUPLE REPLACEMENT PARTS. REPLACEMENT PARTS WILL BE LISTED BY PART NUMBER SHORTLY.