STEP 1: LIFT QUAD AND STABLIZE WITH JACK STANDS OR BLOCKS. REMOVE THE TIRE. (TRUST ME, YOU WILL NEED THE QUAD TO BE STABLE B/C YOU WILL HAVE TO ISSUE A LOT OF FORCE IN CERTAIN STEPS OF THIS PROCEDURE).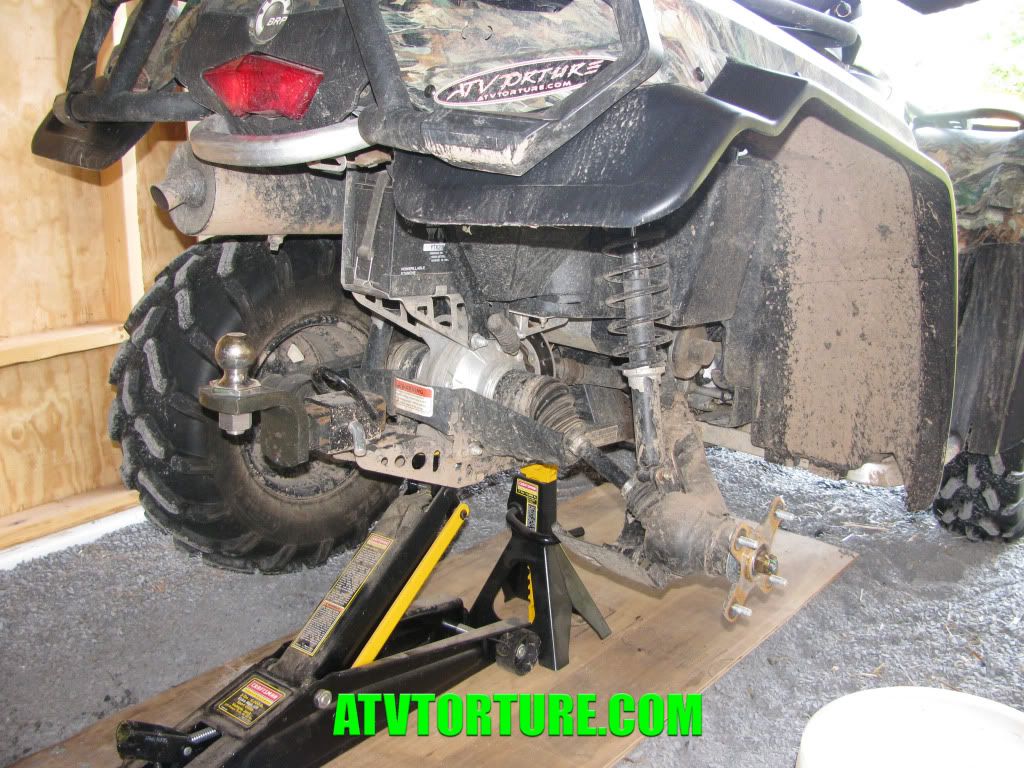 STEP 2: REMOVE THE SIDE PANELS, FOOT WELL, AND PEGS.
STEP 3: ONCE STEP 2 IS COMPLETE, THE TRAIL ARM IS FULLY EXPOSED AND YOU CAN EASILY GET TO THE AREA OF CONCERN. YOU WILL ALSO WANT TO REMOVE THE LOWER BOLT ON THE SHOCK. I REMOVED THE SHOCK JUST TO ELIMINATE THE EXTRA HASSLE.
STEP 4: REMOVE THE WHEEL HUB.
STEP 5: THIS IS WHERE THE FUN BEGINS. YOU MUST REMOVE THE RUBBER PROTECTIVE COVER AND THE TORSION BAR (INCORRECTLY LABELED "TORQUE PLATE" IN THE PHOTO - SORRY). IN ORDER TO THIS, YOU WILL NEED TO REMOVE THE ELASTIC NUT AND SNAP RING. ACTUALLY, KEEP THE ELASTIC NUT JUST ON THE END OF THE BOLT. SINCE ALL OF THESE PARTS WERE DRENCHED IN LOCK-TIGHT DURING ASSEMBLY, YOU ARE GOING TO NEED SOME EXTRA ENCOURAGEMENT TO REMOVE A COUPLE OF THESE PARTS. SO, WITH THE NUT IN PLACE, TAKE A SMALL BOARD AND LARGE HAMMER AND COMMENCE TO BEATING THE CRAP OUT OF IT. THIS WILL EVENTUALLY JAR THE TORSION BAR OUT.
STEP 6: REMOVE THE SPANNER BOLT. IN ORDER TO DO THIS, YOU WILL NEED THE CUSTOM SPANNER SOCKET. THIS SOCKET IS SIMILIAR TO EVERY OTHER SPANNER SOCKET YOU'VE EVER SEEN, BUT ITS SIZING SEEMS TO BE UNIQUE TO CAN-AM. I TRIED A TOTAL OF 6 DIFFERENT SPANNER SOCKETS WITH NO LUCK. I HAD TO GO TO THE DEALER TO GET THE RIGHT TOOL. PART NUMBER 529 035 925