Discussion Starter
·
#1
·
Most people think of MI. being flat and boring as so did I. And WV is the best place, Well the latest trip Weekender and I took to the U.P. was by far the best trip I have ever been on.
The Plan was to go to Canada on a last minute trip with only a week to plan. Well it didnt happen, so we decided 2 days before we left to head North into the U.P. insearch of a place to park my truck and ride snowmobile/atv trails as far as we can go and camp along the way.
I called the Michigan ATV Club President the night before, and we made arrangements to meet him at a exit in Ann Arbor to give us some maps he had of the area we was looking to go. That was the 1st of many things that worked in our favor on this trip.
Once we drove 750 miles we found a town called Iron River we liked that had a campground to leave my truck in for 4 days. So we unloaded setup camp and took a little ride for about an hour and returned to camp for a juicy t-bone over a open fire. Several people stopped by our site wondering what we was planning on doing for the way our quads where outfitted. Many thought it was cool others mentioned that it was bear season and there was many baiting areas around and the bear are aggravated. Well we are tuff guys and didnt scare us...lol
The first day,
We got up and headed out for a adventure. When we hit the trails(it ran thru the middle of town)we headed east out of town and that trail was 67 miles long. We ended up in this town called Marenisco for some gas and a cold Diet Dew. We spent less then a hour there, and talked to some bear hunters that said this was the best year they have seen for hunting..lol
So we left there and headed north and rode along a Lake for 15 miles called Lake Gogebic and stopped in a little town called Bergland, where we talked to some locals and they too cautioned us about the aggravated bears. So we went on North and started looking for a place to set up camp. We was looking for a clearing of some kind that would off the trail a little. Sounds easy right? Well we was in a million acre forest and could not find a clearing...LOL So we just pressed on until we came to a trail that went west. So we headed down that trail and after a couple hours we found a clearing! Here is a pic of our little camp..lol Looks save right?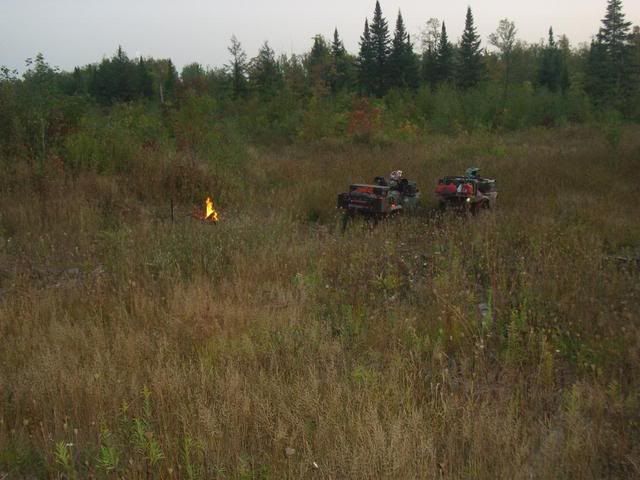 Here is what it looks like in the dark.
After we ate some beef stew out of a can, it didnt take long to fall asleep. OH, I forgot to mention that you can see more stars up there. It is incredible! so we slept on the ground and not in the tent. We was sleeping for a few hours when Walt woke me up putting more wood on the fire. Thats when I heard a snort/grunt sound behind us. I looked at Walt and he didnt act like he heard it , so i thought i was hearing things. A few seconds later I heard it agiain and it was louder. And Walt still didnt hear it! So i whispered to him" grab your machete and get on your feet...we are about to go into battle with a bear" and the bear made that grunt a lot louder and seemed pissed! Walt and I was about three feet apart and we both walked backwards very slow as a big bear was about 10-15 feet from us. I made it to my bike and reached over and hit the key while holding the throttle wide open, when i hit that starter button, It started and backfired loud as hell! There was animals running in every direction, it was crazy! so that saying "loud pipes saves lives" is true. Because with out a doubt in my mind it saved ours.
Now to scred to sleep we hung out for a while and decided to head to town and wait for a gas station or something to open. When we rode in town we noticed a neon sign that said "open" on it. It was a motel/lounge, as we walked thru the lot and got about 10 feet from the door the open light shut off...lol We was like damn. A lady came out and locked the door and said she was going home for the night. We talked to her for a little while a found out it was close to 3am, and we told her what had happened. Thats when she told us "thats where all the local restaurants feed the bears to keep them from coming in town"..What luck do we have? So here is a pic where i finished sleeping the night. The can in that picture was from the lady at the hotel/lounge. I couldnt turn it down, thats not polite.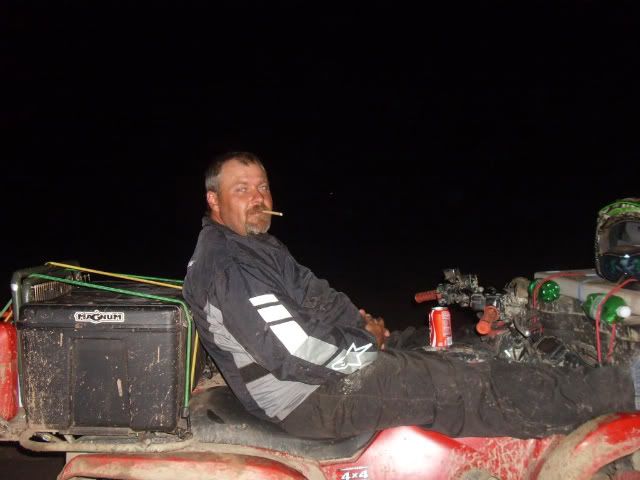 Once morning come, we continued heading north for another 130 mile day. We came across a extremely small fairgrounds that the trail went thru when i had to stop for you know what...better then the woods...LOL
Once i did work on the outhouse, we continued north and seen some awesome scenery and ended up at the end of the trail on the outside of a good size town/city called Houghton. We thought we was done and had to turn around after riding 300 miles we was a little upset with a sign that said"END OF TRAIL" Well across the road a guy pulled in his driveway, so we yelled at him and asked him about it. He was like, " lets call the Police and ask for a escort" because there was trails on the other side of a huge bridge that separated the 2 cities of Handcock and Houghton.
Well we talked to the police and they was impressed with what we was doing and wanting to ride all the way to Copper Harbor. So about 5 min. later we had a escort across the river and back to the trails that was on the other side. So once we made it thru town we had ran into a Sheriff that we asked would be a good place for us to camp at. He had a ranger on a trl with him, so he unloaded and rode with us for a bit and found us a nice safe place to camp..LOL Thats when Walt fan quit working on his PoPo and was overheating and puking out fluid.
The next morning we took the wiring harness off my grizzly that went to my warn trail lights and hard wired his fan so we could try and make it back to our truck. We thought we had better stop and get some fuses a hardware store we seen just incase my wiring job shorted out...lol
Thats when we met the greatest guy ever! He was a older gentleman that talked to us for a hour and we told him we was headed back to the truck because of his cooling problem. We about to say our good byes when he gave us his phone# and said you really need to go to copper harbor, it is amazing up there. And he offered us a nights stay in his river front cottage if we went up there.
Well we went to Copper Harbor...lol and yes it was amazing.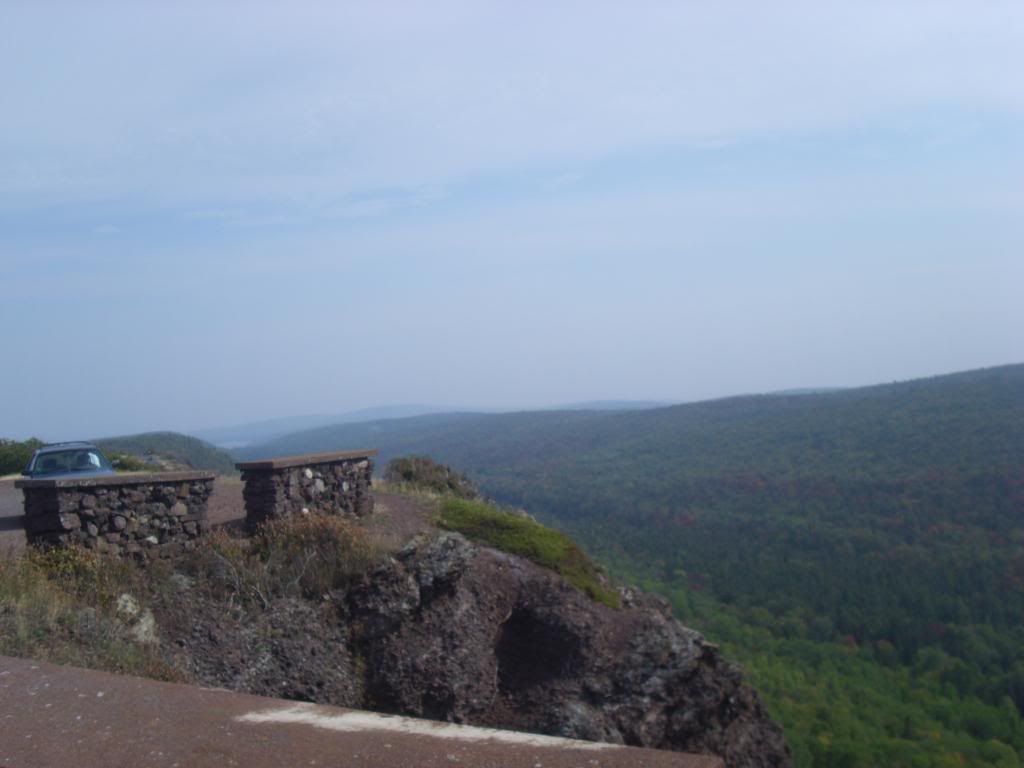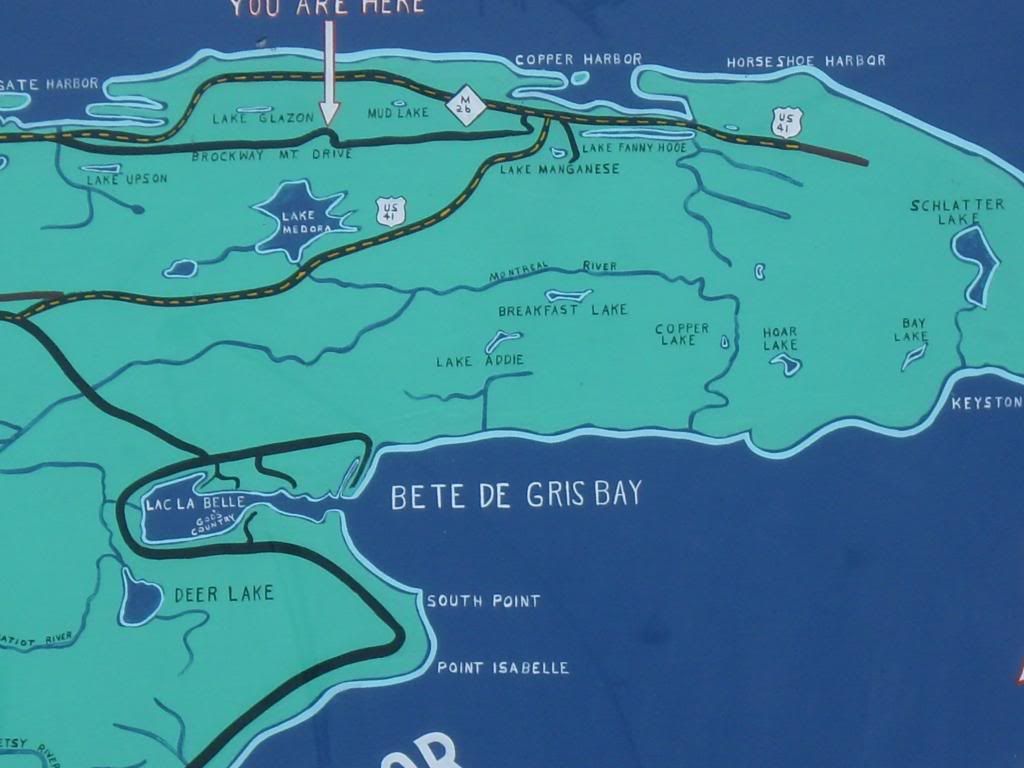 Once we made it back and went to Jacks house, he took us to the cottage, bought us a pizza and dropped us off.
He came back the next morning around 7:30 and took us out to breakfast and asked if we would like to stop by his hunting cabin on our way back.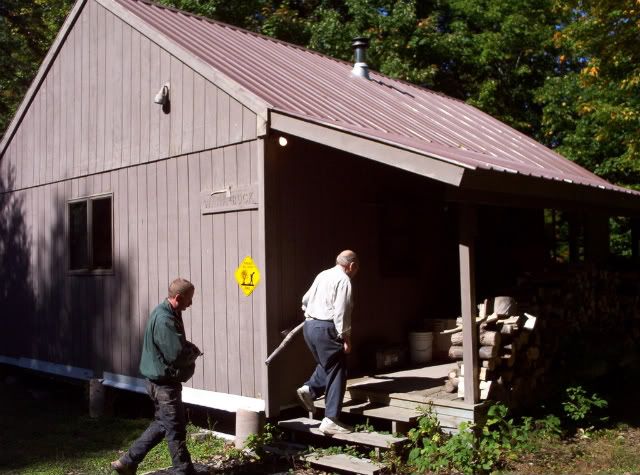 We had made it to his camp and Walts Fan had finally took a crap. So Jack and his buddy rigged up a little something to scoop air thru the radiator.
That scoop "RamAirMod" was made from zip ties and a old paint roller can. But it worked! And here is Jack and his buddy poking some fun at Walt because the Grizzly pulled him close to 50 miles to camp.
The scoop worked out and we made it back to the truck. The trip was a total of 550 miles in 4days and it was a amazing trip. There is so much more i could type but damn im getting tired...LOL
Here is a link to all of our pics
UP Trip photos
The only thing I would have done different. I would not have broke plans with a friend to go on this trip.
http://buckeyeriders.com/forum/viewtopic.php?t=45&highlight=