Discussion Starter
·
#1
·
Review: Ricochet Skid Plates
Test Vehicle: 2007 Grizzly 700
MSRP: $399.99
When we purchase a new ATV the first thing a lot of us begin doing is accessorizing. We search magazines, web sites and our dealers for the coolest accessories that we think are going to get the most points from our riding buddies. Unfortunately we often overlook undercarriage protection. Why??? Well, maybe because no one ever sees it or maybe because it is going to get beat up and damaged.
Most of the ATV manufactures do a fairly good job of providing skid plate protection for the average trail rider. The majority of the ATVTORTURE crew are not average trail riders. We ride a lot of very extreme trail conditions that require us to have the best possible protection available.
I called and spoke with Mike at Ricochet Offroad. We talked about the features and options that separated their product from the competition. He told me that each plate is fabricated from 5/32" aircraft grade 5052-H32 aluminum and has a non-corrosive clear anodized finish with cutouts provided for easy maintenance without removing the skid plate. The mounting clamps consist of 1/8" aircraft grade chrome-moly steel and heat-treated to maximize their strength and ductility.
Shipping from Ricochet Offroad was quick and lots of thought and care was taken in the way they are packaged. The skid Plates were professionally packaged in very nice plastic pouches that are made for slat board display in retail stores. All mounting hardware was individually packaged and the metal mounting clamps were even embossed with the size of tube the clamp fits which we thought would be very useful to know if the clamp ever needed to be replaced.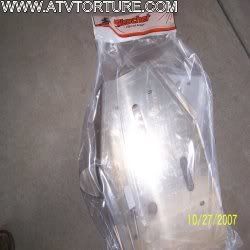 Since we were anticipating the arrival of the skid plates we went ahead and removed the stock plastic skid plates from the Grizzly 700 and began cleaning the undercarriage. The Ricochet skid plates installation instructions were very good and I think even the in-experienced wrench turner could install these in a couple of hours. A word of advice, Ricochet instructs the installer to set the vehicle on its rear rack and secure it in the upright condition. We do not recommend this as most utility quads are 500 lbs or more and become very unstable during that transition to the rear rack. We simply drove the vehicle up onto a set of car ramps and performed the installation that way. It did require some crawling around on the ground but it was safer and quite a bit easier on the back. Installation time can take approximately 2-3 hours including removal of the old skid plates and cleaning of the undercarriage.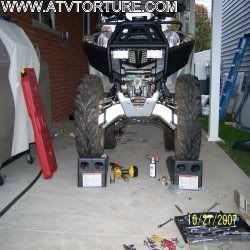 The mounting clamps are one of our biggest complaints. They are not made of stainless steel and due to their location they are prone to rust quickly. We found that to be a problem on other models we have worked with in the past when they needed to be removed. We used an anti-seize lubricant before bolting the plates on to hopefully cure the possibility of the nut rusting to the bolt.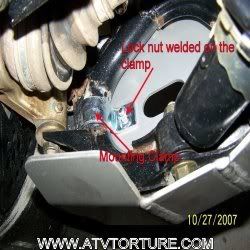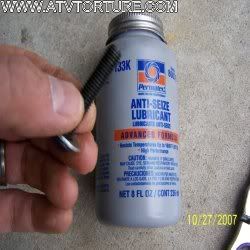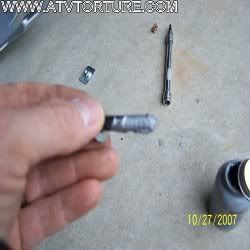 We would like to see Ricochet use some stainless hardware or at least offer that as an optional package.
If you are going to be working or playing in the mud expect to pay a lot of attention to the CV boot areas as there is a very small drainage hole and mud and silt tend to build up here. We can understand the necessity to keep the drainage holes small in this particular area but we felt it needed mentioning.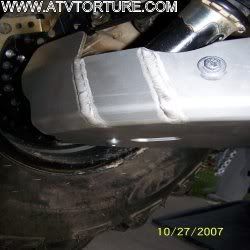 Protection is second to none. The Ricochet plates encase practically every critical drive train and engine component. This however comes at a cost. Of course that cost would be well worth it if the skid plates save you only one costly repair to the undercarriage.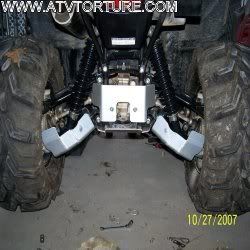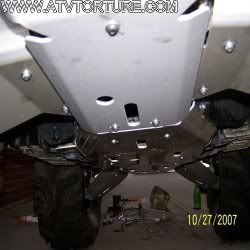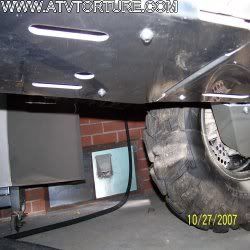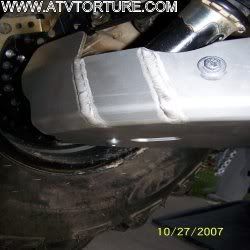 In conclusion the Ricochet Offroad skid plates are a very well constructed product that will add a functional nice looking accessory to any ATV. A lot of care is taken in building each one of these plates, from strategic placement of bends to protect certain critical areas of the machine, to nice clean welds where areas transition to a complex bend. There are special holes positioned to allow areas of the vehicle like the engine and differential drain plugs to be serviced.
We not only endorse Ricochet Offroad skid plates but we think they are a must for any serious ATV enthusiast. Ricochet Skid Plates get the TORTURED stamp of approval.
Pros:
* Well constructed of heavy duty material.
* Clear coat anodized to resist staining.
* Easy to install.
* Cut outs for easy maintenance without removal.
* Protects critical areas better than the OEM.
Cons:
* Mounting hardware prone to corrosion quickly.
Contact:
HTTP://WWW.RICOCHETOFFROAD.COM
Call toll free at 1-866-273-1197
Fax at 1-801-483-2348
3375 South West Temple
Salt Lake City, UT 84115